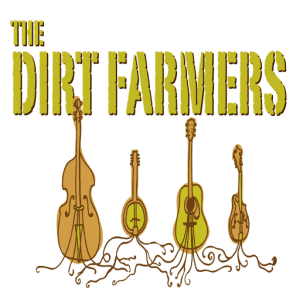 are a burgeoning upbeat, high-energy, blue-to-paisley-grass band, located in Bozeman, MT.  From dive bars to festivals to being your perfect wedding band – we love it all.
The Dirt Farmers are a foot-stomping string band, who call their musical style "paisley grass." They have gained a following for their fun-loving mix of old school country, bluegrass, blues and rock, with the occasional slip into hip-hop. The band members, as unique as their song list, serve it all up with a smile on mandolin, banjo, guitar, fiddle and bass with vocal harmonies.
Stand-out guitarist/singer Kelly Hagerman fronts the band with Nate Fortier or Ryan Totman on mandolin, Bill Devine on dobro/pedal steel, Chuck Swenson on banjo, Hans Swenson  on fiddle, and Suzanne Ford on doghouse bass.
Dirt Farmers, Nate and Kelly, write original tunes that invite you to be "Having a Good Time" and experience the flavor and fun of Montana life.
Their debut CD, Dirt on the Tracks was released March 17, 2015.
Always entertaining, our shows have an all-age appeal.  Book us for your bar, company party, or wedding – you will not be disappointed!